The death toll in a suicide attack in St. Petersburg rose to 16
The explosion in the underground of St. Petersburg took place on April 3 on the stretch between the stations "Sennaya" and "Institute of Technology".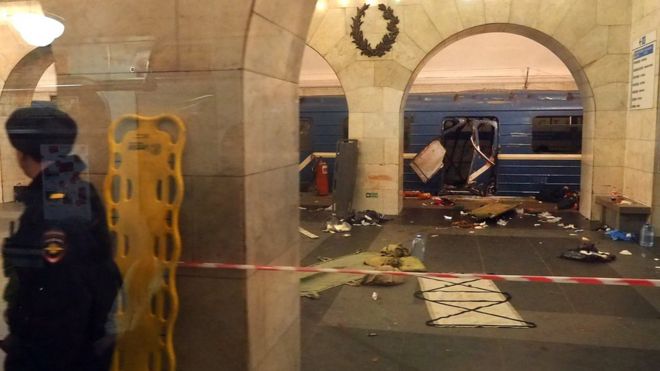 Suicide bomber Akbarzhon Jalilov, 22, is thought to be Russian national born in Central Asian Kyrgyzstan, died in the blast
The investigative committee, which is leading an inquiry into the bombing, said in a statement that six men were detained in St. Petersburg and two in Moscow. It said the explosive device, found in an apartment in St. Petersburg, was identical to the one the suicide bomber, Akbarzhon A. Jalilov, planted at the Vosstaniya Square station before he blew himself up between the Sennaya Square and the Technology Institute stations. Investigators discovered tinfoil, double-sided tape and other components of explosive devices in an apartment Mr. Jalilov rented in northeastern St. Petersburg, but there has been little to explain what turned a 22-year-old Russian with Uzbek roots into a suicide bomber.
April 18 Basmanny court arrested the alleged organizer of the terrorist act Abror Asimov. His calculated, practicing telephone contacts Jalilov.
Yesterday was arrested older brother Abror Asimov Akram. According to security officials, Akram Azimov participated in the financing of terrorist groups obtaining money from Turkey and also provides its members with forged documents. he denied any involvement in terrorist activities.
Video footage appeared to show a grenade in his money belt
The FSB said the suspects, both from Central Asia, were killed in a shootout when they resisted arrest in a home in the Vladimir region east of Moscow.
They were in contact with recruiters from international terror organizations, had shown an interest in making bombs and expressed a readiness to carry out attacks in Russia, it said in a statement.
Millions of migrants from the poverty-stricken ex-Soviet countries of Uzbekistan, Tajikistan and Kyrgyzstan come to work in Russia.