The assassination of Boris Nemtsov, a Russian statesman and politician opposed to the government of Vladimir Putin, happened in central Moscow on Bolshoy Moskvoretsky Bridge at 23:31 local time on 27 February 2015. An unknown assailant fired seven or eight shots from a Makarov pistol; four of them hit Boris Nemtsov in the head, heart, liver and stomach, killing him almost instantly. He died hours after appealing to the public to support a march against Russia's war in Ukraine (Wikipedia)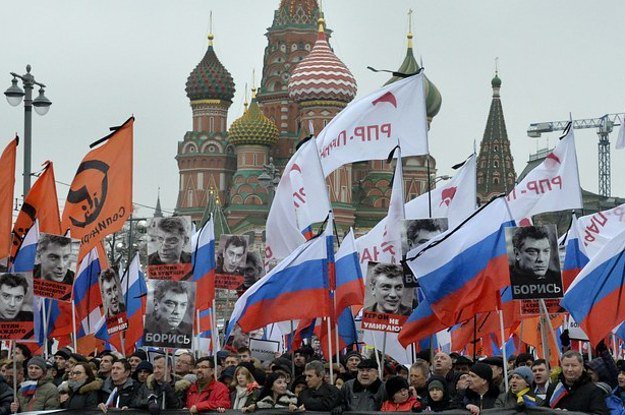 The premiere of the documentary about his assassination debuts. October 6, 2016, Washington DC
Five men are accused of killing the Russian opposition politician Boris Nemtsov. The deceased had been an outspoken critic of President Vladimir Putin before he was silenced under mysterious circumstances.
Five men stand accused of involvement in the killing of the Russian opposition leader Boris Nemtsov. The trial opens before the Moscow military district court. The proceedings are beginning later than planned because of the difficulty in finding jurors. Dozens of candidates declined to serve, citing personal reasons.
The accused are charged with murder and illicit arms trafficking. They face a minimum sentence of eight years. Nemtsov's relatives tried unsuccessfully to get the charge altered to "attempted murder of a public figure," which carries a minimum sentence of 12 years.
In the dock are five men from Chechnya. Most of them are former policemen; some of them are related. They were arrested quite soon after the murder. Russian police say that a sixth suspect took his own life as he was being arrested. Most of the accused initially confessed, but they later recanted, saying they were pressured into it. They now deny killing Nemtsov.
Nemtsov's murder took place in the heart of Moscow, a few days before a big opposition demonstration. He was walking home late in the evening of February 27, 2015, accompanied by a female friend. His route took him over the Bolshoy Moskvoretsky Bridge, right beside the Kremlin. At about 11:30 p.m., investigators say, he was overtaken on the bridge by Zaur Dadayev, the former deputy commander of a paramilitary police battalion in Russia's autonomous Chechen Republic. Dadayev is said to have shot at Nemtsov at least six times with a pistol. The politician was hit by four bullets. He died on the spot.
Investigators claim that Dadayev and his accomplices were contracted by Ruslan Mukhudinov, a fellow Chechen and former police officer, to carry out the murder. Together with "other, unidentified persons," Mukhudinov is said to have promised them at least 15 million rubles for killing Nemtsov. He is now on the run, and there is an international arrest warrant out for him. His motive for the killing, however, is unclear. The case against Mukhudinov is being conducted separately and is not part of the current trial.
CNN interview.
The only explanation not being given in Moscow for Nemtsov's killing late on Friday evening is the blindingly obvious one: that he was murdered for his opposition activities. Specifically, for his very public criticism of Putin's secret war in Ukraine in which at least 6,000 people have been killed over the past year, and which – according to his friends – he had been about to expose.
Nemtsov had been one of few Russian liberals brave enough to denounce Putin's extensive undercover military support for the separatist rebels in Ukraine. He described the way Putin had annexed Crimea, using masked special forces, as "illegal", though he recognised a majority of Crimeans wanted to join Russia. In his final interview, on Friday, he denounced Russia's president as a "pathological liar".
Hours before his murder, moreover, Nemtsov said he had "documentary" proof that undercover Russian soldiers were fighting and dying in eastern Ukraine. It was an assertion borne out by a steady flow of coffins returning in the dead of night from the war zone in Donetsk and Luhansk. According to his friend Ilya Yashin, Nemtsov was preparing an explosive essay on the subject.
Instead, the Kremlin seems to be moving towards old-fashioned cover-up. On Monday, the authorities implausibly announced that the CCTV cameras next to the spot where Nemtsov was shot dead "were not working". The politician had had a late dinner with his girlfriend, Ukrainian Anna Duritskaya, in GUM, an upmarket shopping centre. They strolled together across the cobbles of Red Square, then walked past the Kremlin. They started crossing a bridge over the Moscow river. It was 11.30pm.
According to Duritskaya, someone emerged from a stairwell immediately behind them. The assassin shot Nemtsov six times in the back. Four of the bullets struck him, one in the heart; he died instantly. The killer then escaped in a waiting white car, driven by an accomplice. The car disappeared into the night. Duritskaya told the liberal TV channel Rain she hadn't been able to see the person who fired the fatal shots. Investigators recovered the 9mm bullets. They didn't find a murder weapon.
The location, though, told its own chilling story: an opponent of Putin lying dead in the street, under the walls of Russian power, and next to the country's most famous landmark, St Basil's cathedral. The visual scene is perfect for TV. It seems extraordinary that a former deputy prime minister could be murdered here, outside the Russian equivalent of the White House or the Houses of Parliament, with the shooter apparently able to drive off.
Officials have released one carefully curated CCTV shot taken from far away. A snowplough obscures the moment when Nemtsov is shot. Like all major opposition figures, Nemtsov was under surveillance by the FSB, the successor agency to the KGB. The FSB expends enormous effort on keeping track of its targets. On this occasion, however, an organisation known for its resources and unlimited manpower seems to have lost track of him.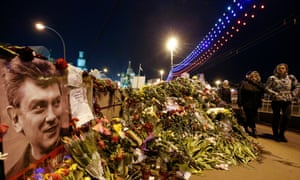 In recent months, Nemtsov had voiced growing fears that he might be killed. In an interview with the FT last Monday, he said Putin was distinctly capable of murder, saying of him: "He is a totally amoral human being. Totally amoral. He is a Leviathan." Nemtsov went on: "Putin is very dangerous. He is more dangerous than the Soviets were. In the Soviet Union, there was at least a system, and decisions were taken by the politburo. Decisions about war, decisions to kill people, were not taken by Brezhnev alone, or by Andropov either, but that's how it works now."
Zhanna Nemtsova: I think it was a politically motivated assassination. He was in the opposition for a long time. For the past two to three years, it had been very evident that all opposition leaders were under pressure. The pressure turned more violent, and resulted in this murder. The pressure on the opposition was widely supported by the authorities and by Russian TV propaganda – just to stop my father's political activities and to intimidate people.
Many people in Russia are intimidated right now, they are afraid to openly, publicly express their points of view. Some opposition leaders – we have only few – are on the "red list," as my father put it. Other leaders aren't frightened and they continue their activities. They are really brave and they deserve great respect for their courage.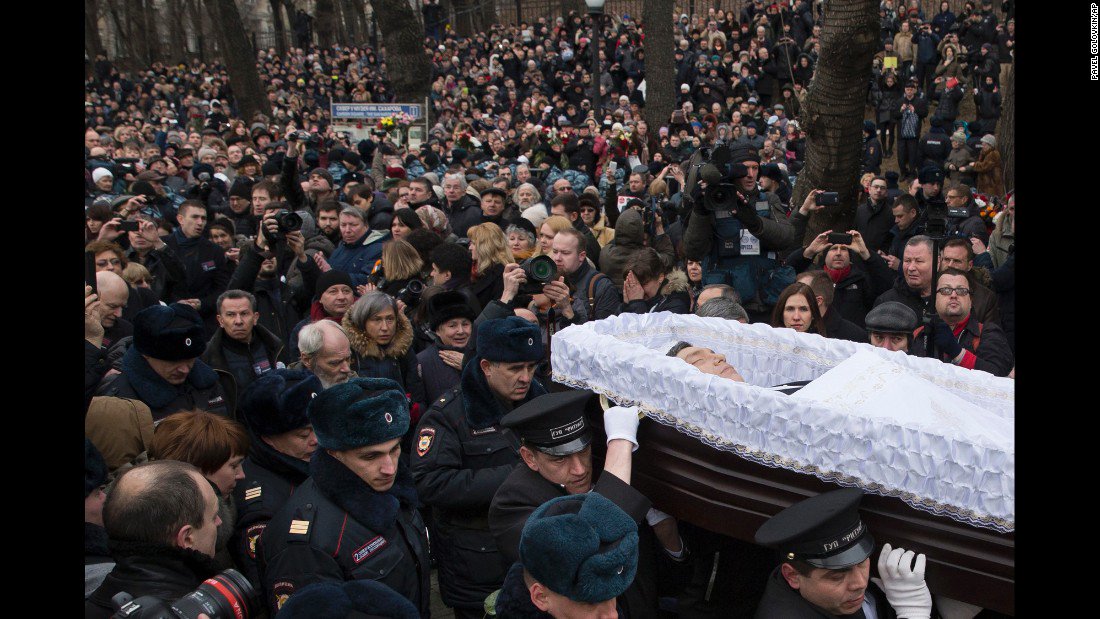 From the beginning of the Maidan protests in November 2013, Russia's pro-state media conducted a hysterical campaign against the Ukrainian revolution and the new government in Kiev. They called it a Nazi junta.
Rumours were deliberately spread among Ukraine's Russian-speaking population, most of whom watched Russian TV, that the new authorities planned to repress and discriminate against them. People were called upon to defend their Russian-speaking brothers, so sparking the separatist movement in eastern Ukraine and its support by armed volunteers from Russia.