This is a quite a lengthy post. War is not imminent despite buildup.
Russia will do an exercise that can be used to provoke a short term attack. This attack would be to the city of Mariupol and withdraw testing the Western resolve.
Putin encouraged leaders of Eastern Ukraine cities to rebel, and demand a union with Russia.When the Ukraine government does an impulsive war act, Putin will threaten war. That alone can be a catalyst.
Putin has time to let the Eastern Ukraine regions stabilize and perform "separatist cleansing" of the area. This cleansing is in year two of four. by the end of 2018, the area should be 95% separatist population with any pro-ukrainian jailed, forced moved or homes burned.
NATO allies have not interested in fighting this appeasement process. They just want it to go away. This is very similar to Serbia and Bosnia.
Once a tourist resort, the village of Shyrokyne near the southeastern Ukrainian city of Mariupol has been the scene of fresh clashes between Ukrainian government forces and Russia-backed separatists. On the night of August 19-20, an exchange of fire from machine guns and mortars lasted for more than three hours
The village has been the epicentre of fighting for months due to its proximity to the port city of Mariupol.
In the Mariupol sector, the enemy fired 122mm artillery systems near the village of Novoselivka, as well as 82mm mortars, rocket-propelled grenades and heavy machine guns on the Ukrainian positions in the village of Taramchuk. The militants fired mortars, machine guns and small arms in the town of Maryinka and the village of Talakivka, as well as grenade launchers in the villages of Vodiane, Hnutove and Shyrokyne. Russia's hybrid military force continued provocations with the use of small arms near the town of Krasnohorivka, and the villages of Starohnativka and Bohdanivka. They also actively used armored vehicles near Shyrokyne, Talakivka, Maryinka and Vodiane.
Shyrokyne (20km east of Mariupol), the terrorists applied grenade launchers and heavy machine guns.
Earlier. Russia has prepared an excuse for a military incursion to connect Crimea with rebel-held areas of the Donbass in eastern Ukraine. Fighting along the corridor has already heated up; the Ukrainian military reports that on the night of August 8 more than 200 artillery and mortar rounds fell on Shyrokyne, on the Azov Sea coast east of Mariupol.
War is coming, but unfortunately most Americans are completely oblivious to what is about to happen. In recent weeks, tens of thousands of Russian soldiers have been massing at eight staging areas along Russia's border with Ukraine, and some Pentagon officials believe that this could represent preparations for a full-scale invasion.
Shyrokyne lies just 10 kilometres (six miles) east of Mariupol — a strategic industrial port whose control would provide the rebels with new financial resources as well as a potential land bridge to Crimea.
Russian and Russian-backed forces are encircling Ukraine from the north, east, and south.
The Pentagon has identified eight staging areas in Russia where large numbers of military forces appear to be preparing for incursions into Ukraine, according to U.S. defense officials.
As many as 40,000 Russian troops, including tanks, armored vehicles, and air force units, are now arrayed along Ukraine's eastern border with Russia.
On Thursday, Russian naval and land forces practiced swiftly moving military hardware and troops to Crimea, already one of the world's most militarised areas, in a logistics exercise that foreshadows larger war games planned for next month. BI
Russia's Black Sea Fleet, around 2,500 troops and up to 350 armored vehicles were involved in the exercise, which unfolded as tensions have also flared in eastern Ukraine, where a truce that curbed fighting is looking increasingly shaky. BI
Moscow is also due to start fresh military exercises near Ukraine — such drills have in the past served as cover for offensives in the conflict in eastern Ukraine, where Russia-backed separatists fight government troops. The Russian defence ministry said overnight on Thursday that troops had practised a rapid deployment to Crimea as part of an upcoming exercise next month.  FT
Few buildings are left standing in the little village and the quaint sailing boats that once lined its sunny shore have long been destroyed.
"These attacks clearly began in response to Putin's statement about Crimea," the 45-year-old Ukrainian fighter told AFP as the echo of distant shelling shook the air.
"But I doubt that the Russian side is prepared for an all-out offensive."
Tensions between Moscow and Kiev have been boiling over since President Vladimir Putin last Wednesday accused the pro-Western leadership in Kiev of attempting an armed incursion into Crimea that killed two Russian servicemen.
Kiev has furiously denied the allegations, and Ukraine asked Russia at an emergency UN Security Council session last Thursday to come up with the "proof" that any such attack happened.
Moscow responded by airing the alleged confessions of some of the captured purported Ukrainian plotters, and beefing up its forces on the Black Sea peninsula it seized in 2014.
Ukrainian President Petro Poroshenko has also put his troops on a heightened state of alert as Russia conducts naval exercises around Crimea that have NATO and the United States particularly concerned.
Now, following Russian claims of thwarted terrorist attacks in Crimea that the United States cannot confirm, Putin is vowing revenge. "We obviously will not let such things slide by," he warned.
Putin met with his security council on August 11. According to a Kremlin spokesman, the group discussed "additional measures" for ensuring security. "Scenarios were carefully considered for anti-terrorist security measures at the land border, in the waters and in the airspace of Crimea."
"It is clear that we have gathered for a well known reason after the infamous incident, after we thwarted attempts by groups of Ukrainian army saboteurs to break into (our) territory," he said. BI
"Apparently, our partners in Kiev decided to aggravate the situation, and it is clear why — because they do not want to, or cannot for whatever reasons, fulfil the Minsk agreement and, secondly, [because they] struggle to explain to their own people their significant failure in social and economic policy," Mr Putin said on Friday at a meeting with members of his security council in the Crimean port city of Sevastopol. FT
Separatists and the government believe a fresh outbreak in hostilities is imminent. "The situation remains tense, and at any moment it could break out and escalate into full-fledged clashes," separatist leader Denis Pushilin worried.
It doesn't seem like things will be tapering off anytime soon, either, since Russia has recently deployed an assortment of ground, air, and naval units around Ukraine. Included in the deployments is the S-400 air-defense system in response to Russian allegations that Ukraine had deployed special-forces troops to the contested region of Crimea in order to commit acts of sabotage.
Russia has said that two servicemen were killed in armed clashes during the alleged incident and threatened "exhaustive measures" in response.
"We obviously will not let such things slide by," Russian President Vladimir Putin warned.
But the US has determined that their is no evidence of a Ukrainian incursion into Crimea. Russia annexed Crimea from Ukraine on March 18, 2014, after the peninsula held a referendum on independence. The referendum was held during a Russian occupation.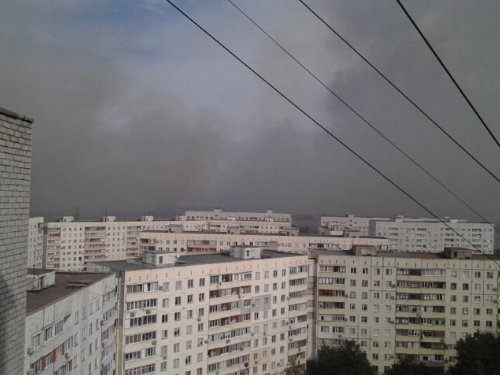 Field fires rage outside & east of Mariupol probably the result of shelling
Mr Putin also said that Moscow would not break off relations with Ukraine, a move that Dmitry Medvedev, Russia's prime minister, had threatened earlier this week. "Despite the unwillingness of the current authorities in Kiev to have full diplomatic relations on the level of ambassadors, we will still retain the possibilities for developing contacts, for their support," Mr Putin said. FT
Mr Putin added that he was making Dmitry Livanov, who was replaced as education minister earlier on Friday, his special representative for the development of trade and economic, scientific and technical contacts with Ukraine. The creation of this new role marks a further blow to the two countries' official interactions, despite the pledge to develop relations, as the post of Moscow's ambassador in Kiev is now expected to remain vacant indefinitely.FT
A four-way meeting in the Normandy format had been in the works for the G20 summit in China in early September, but Mr Putin said last week that such a meeting was "meaningless" under the current conditions.
Vladimir Putin flew into annexed Crimea on Friday a day after staging war games there, and said he hoped Ukraine would see "common sense" when it came to resolving a diplomatic crisis over the peninsula.
Although Kiev believes Putin is preparing for more fighting, some experts believe he is more interested in gaining diplomatic leverage, seeking to use the latest crisis to prod the West to press Ukraine into doing more to uphold the accords. BI
"Despite the strongly worded statements by Putin, and the continued Russian military build-up on Ukraine's borders, IHS Markit continues to hold the view that Russia is not preparing for an imminent overt invasion," said Alex Kokcharov, principal analyst at the London-based consultancy. BI
"By accusing Ukraine of terrorism and by building up military threats, Russia is attempting to weaken Western support for Kiev and to pressure both the West and Ukraine to agree to the Donbass settlement on Moscow's terms." BI
Also, Ukraine is weaken by this corruption.
Before Donald Trump's campaign chairman started working for The Donald, he was a key operative in the corrupt government of Ukrainian President Vickor Yanukovych. A new ledger recently discovered by the country's newly formed National Anti-Corruption Bureau listed $12.7 million in cash payments designated for Paul Manafort, The New York Times reported.
"Paul Manafort is among those names on the list of so-called 'black accounts of the Party of Regions,' which the detectives of the National Anti-Corruption Bureau of Ukraine are investigating," the organization reported in a statement. "We emphasize that the presence of P. Manafort's name in the list does not mean that he actually got the money, because the signatures that appear in the column of recipients could belong to other people."
Nevertheless, as the Times reported, handwritten ledgers show $12.7 million in cash payments from Yanukovych's pro-Russian Party of Regions designated for Manafort between 2007 and 2012. "Investigators assert that the disbursements were part of an illegal off-the-books system whose recipients also included election officials." Criminal prosecutors are also investigating a group of offshore shell companies which helped fund the former president's lavish lifestyle, which included a palace with a private zoo, golf course, and tennis court.
Manafort did not respond to requests from the Times. His lawyer, Richard A. Hibey, insisted he had not received "any such cash payments" discovered by the anti-corruption officials. He disputed any suggestion that Trump's campaign chairman might have knowingly engaged in corruption or worked with those involved in illegal activities.
"These are suspicions, and probably heavily politically tinged ones," Hibey said. "It is difficult to respect any kind of allegation of the sort being made here to smear someone when there is no proof and we deny there ever could be such proof."
Vitaly Kasko, a former senior official with the general prosecutor's office in Kiev, insisted otherwise. "He understood what was happening in Ukraine," Kasko told the Times. "It would have to be clear to any reasonable person that the Yanukovych clan, when it came to power, was engaged in corruption. … It's impossible to imagine a person would look at this and think 'Everything is all right.'"
Yanukovych's party relied heavily on Manafort's advice to win multiple elections, before the former president fled to Russia in 2014. During that period, Manafort never registered as a foreign agent with the United States Justice Department, which is required of those seeking to influence American policy on behalf of foreign clients. Had Manafort only advised the Party of Regions in Ukraine, he may not have needed to register, but he also burnished Yanukovych's image in the West.
Without such a registration, Manafort's compensation remained a mystery, but these new documents — known in Ukraine as the "black ledger" — seem to reveal how handsomely the political consultant was paid. The ledger consists of 400 pages of "chicken-scratch" Cyrillic kept in a room in the former Party of Regions headquarters in Kiev. Manafort's name appears in the ledger 22 times over five years, with payments totaling $12.7 million, according to the National Anti-Corruption Bureau.
The room also held two safes stuffed with $100 bills, which reportedly were used for all sorts of occasions. "This was our cash," said former party leader Taras V. Chornovil. "They had it on the table, stacks of money, and they had lists of who to pay." He recalled receiving a "wad of cash" totaling $10,000 for a trip to Europe.
While there are no bank records corroborating Manafort's receipt of the $12.7 million, his alleged involvement in off-shore businesses might explain how the money eventually reached his pocketbook.
Timeline 2014
27-28 February: Pro-Russian gunmen seize key buildings in the Crimean capital, Simferopol. Unidentified gunmen in combat uniforms appear outside Crimea's main airports.
1 March: Russia's parliament approves President Vladimir Putin's request to use force in Ukraine to protect Russian interests.
16 March: Crimea's secession referendum on joining Russia is backed by 97% of voters, organisers say, but vote condemned by West as a sham.
18 March: President Putin signs a bill to absorb Crimea into the Russian Federation.
7 April: Protesters occupy government buildings in the east Ukrainian cities of Donetsk, Luhansk and Kharkiv, calling for a referendum on independence. Ukrainian authorities regain control of Kharkiv government buildings the next day
17 April: Russia, Ukraine, the US and the EU say they have agreed at talks in Geneva on steps to "de-escalate" the crisis in eastern Ukraine. Three people are killed when Ukrainian security forces fend off a raid on a base in Mariupol – the first violent deaths in the east.
2 May: Clashes in the Black Sea city of Odessa, leave 42 people dead, most of them pro-Russian activists. Most die when they are trapped in a burning building.
11 May: Pro-Russian separatists in Donetsk and Luhansk declare independence after unrecognised referendums.
25 May: Ukraine elects Petro Poroshenko as president in an election not held in much of the east.
14 June: Pro-Russia separatists shoot down a military plane in the east, killing 49 people.
5 July: Rebels abandon their command centre at Sloviansk in the face of a government offensive.
17 July: Malaysia Airlines flight MH17 from Amsterdam is shot down near the village of Grabove in rebel-held territory, with the loss of 298 lives.
22 August: A huge Russian convoy delivers humanitarian aid to the government-besieged city of Luhansk without Ukrainian permission.
27-28 August: Rebel leader Alexander Zakharchenko says there are 3-4,000 Russian civilians in rebel ranks as the separatists open up a front on the Sea of Azov and capture Novoazovsk.
1 September: Ukraine says 700 of its men have been taken prisoner as pro-Russian rebels advance in the east.
5 September: Ukraine and pro-Russian rebels sign a truce in Minsk.
24 September: Nato reports a "significant" withdrawal of Russian troops from eastern Ukraine.
12 October: President Putin orders thousands of troops stationed near the Ukrainian border to return to their bases
21 October: Human Rights Watch says it has strong evidence Ukraine attacked populated areas of Donetsk with cluster bombs, banned by many other states.
12 November: Nato commander Gen Philip Breedlove says Russian military equipment and Russian combat troops have been seen entering Ukraine in columns over several days.